Page Title goes here
Provide a short description of your web page here, using bright bold pre-styled fonts with colors that stand out ...
What's New
Our Magnolia Nantucket Retreat at our Magnolia Retreat, Magnolia, Delaware will be held on
June 6 – 9, 2019 (FEES DUE BY April 12, 2019)
June 20 - 23, 2019 (FEES DUE BY May 1, 2019 )
October 17 – 20, 2019 (FEES DUE BY August 1, 2019)
Click Here to Download the MAGNOLIA NANTUCKET RETREAT Booklet!
---
We Now Have Reed and Nantucket Baskets
We are now selling our baskets , and will make similar baskets once the originals are sold. These baskets are made at Magnolia Baskets, and use our dyed reed! We have a wide variety, including Nantucket, Traditional, Jail House, Round Baskets, Lazy Susans, Purses, Bird Houses, Sand Pails, Bread Baskets, Trays, Shelf Baskets, and many more! Click here to see the variety of baskets and to order them!
---
"I received my order yesterday & just wanted to tell you thanks so much. The color is spectacular. Very vibrant. I will definitely order from you again." Valorie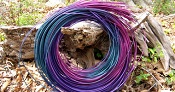 Advice
Wetting
Add a few drop of fabric softner to your water when wetting dyed reed, helping to keep your dyed reed as dyed as possible and to prevent bleeding. Your natual reed should be wetter than yours dyed reed, so that the dyed reed wick that water to it without color and not the natural reed wicking from the dyed reed with color. The dryer you weave with both the better.
Weaving
Cane has two sides the right sided is the bark and only take the dye in some places. The wrong side of the cane is porous and take the dye very good. You can weave with either side. Using the right side give you a mute look. Using the wrong side out will give you a bright look.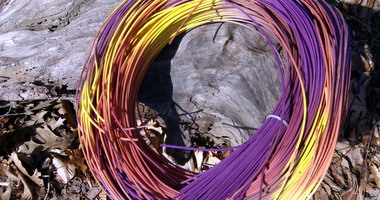 Shipping
PLEASE READ: When you place an order, you will be charged for the items only, THEN when we determine the shipping charge (using standard USPS or UPS charges), we will send you a separate invoice for shipping. If you have any questions, please email us!
Please allow two to three weeks for delivery. I do not keep large stock so that reed and cane is fresh. Weather can cause longer delay. If it is rainy or very humid I do not dye.
All package are shipped USPS Priority Mail (Eastern Coast 1 - 2 days; Midwest 1 - 3 days; West Coast 2- 5 days) and this comes with tracking and email notification but if you would like save on shipping, we can ship USPS Ground for less. You will have to request this and we will send a refund for the different in shipping, but can take up to 10 days for West Coast. Alaska may required addition shipping and time.
All color are hand mixed and not all colors, sizes or large quantities are in stock. They will be dyed as soon as time and weather permits but this can take some time to dye and dry. We like the reed or cane to dye for at least 10 days to two weeks. If the weather is damp or very cold this can take some additional time. If you do not have this extra time please note this on your order.
I teach and vend out of town several times during the year so I can not dye during these times.
Additional shipping fees may apply for orders from Alaska or Hawaii, so please call for shipping charges.
Cane Dye and Space Dye: All sizes except 2.0 and 2.5 are now special orders.
Reed Dye and Space Dyed: All size larger that 1/2" are now special order.
3/8 flat oval and larger are now special order.
Once an order is placed, please add two to three weeks to dye dry and ship. Thank you for your patience!
Prices Increase
Reed and Cane prices are going up with every shipment we receive, since supplies are being held up in China. These prices are for current stock and will increase as I dye new reed and cane. Thank you for your understanding.
Web Site Privacy Information
Company Name
recognizes that respecting user privacy over the Internet is of utmost importance. This privacy statement is designed to provide information about the privacy and data collection practices for the site: http://www.YOURWEBSITE.COM. The Site is operated by YOUR COMPANY NAME.
If you have questions or concerns regarding this statement, you should first contact our site coordinator at YOU@YOUREMAILADDRESS.COM or by postal mail to:
YOUR COMPANY NAME
1234 STREET DRIVE
CITY, STATE/PROVINCE
POSTAL CODE
Identifying Information. In general, you can visit the Site without telling us who you are or providing any information about yourself. In some areas of the Site, we ask you to provide information that will enable us to process an order, offer services that require registration, assist you with technical support issues or to follow up with you. Generally, COMPANY NAME requests identifying information when you:
Register on any of our web sites.
Place an order.
Provide feedback to an online survey or tell us about an idea or suggestion.
Participate in a rebate program, contest, or other promotional offer.
Request a SPECIAL SERVICE
Request information or files from technical support or customer service.

In these instances, YOUR COMPANY NAME will ask for your name, address, e-mail address, phone number and other appropriate information needed to provide you with these services. In all instances, if you receive a newsletter or other mailing from us, you will always be able to "unsubscribe" to these mailings at any time.
What YOUR COMPANY NAME Will Do With Your Information. If you choose to give us personal information for any of the purposes above, this information is retained by YOUR COMPANY NAME and will only be used by YOUR COMPANY NAME to support your customer relationship with us. We will not add you to a mailing list, or newsletter without your registration for this service. We will only contact you if further information is required from you to complete a service.
What Others May Do With Your Information. YOUR COMPANY NAME does not share, rent, or sell any personally identifying information provided through our Site (such as your name or email address) to any outside organization for use in its marketing or solicitations. From time to time YOUR COMPANY NAME may use agents or contractors who will have access to your personal information to perform services for YOUR COMPANY NAME (such as DATABASE MAINTENANCE, FURTHER EXAMPLES), however, they are required by us to keep the information confidential and may not use it for any purpose other than to carry out the services for YOUR COMPANY NAME. In addition, YOUR COMPANY NAME may also share aggregate information about its customers and its web site visitors to advertisers, business partners, and other third parties. For example, we might share that our users are x percent PCs users and y percent Macintosh users. None of this information, however, will contain personal, identifying information about our users.
YOUR COMPANY NAME On-line Store. The YOUR COMPANY NAME On-line Store is designed to give you options concerning the privacy of your identifying information. If you choose, you can set up an account. This will allow you to have a customized order page for express ordering and to view your purchasing history. To protect your privacy, we have designed the Sites to include certain steps to verify your identity before granting you access or enabling you to make corrections in an account. You will always have access to this account information and can view it, update it or correct it at any time. To access your information, you will need to use a password.
When purchasing products through the our web site, the order form will also ask you to provide a daytime telephone number. However, the telephone number is only used to quickly resolve questions relative to an order, such as to clarify customer email addresses that are inactive, or entered incorrectly.
Third Party Links
YOURCOMPANYNAME.com does provide links to other sites. Other Internet sites and services have separate privacy and data collection practices. Once you leave WWW.YOURCOMPANYNAME.COM, YOUR COMPANY NAME cannot control, and has no responsibility for, the privacy policies or data collection activities at another site.
Cookies
At times, we will use a feature on your web browser to send your computer a "cookie". We do not use cookies to retrieve any personal information from your computer. We only use cookies to learn ways to enhance our Sites, and to give you better, more personalized service while in our web site. You can reset your browser to refuse all cookies or indicate when a cookie is sent. However, some functions of the Sites will not function if you refuse cookies. These areas of our web site will have information posted about cookies, and when a cookie will be uploaded to your computer.
Children's Privacy Protection
YOUR COMPANY NAME is sensitive to the heightened need to protect the privacy of children under the age of 13. The vast majority of the material on our web site is not intended for children and is not targeted to children under the age of 13. We do not knowingly collect data from children and, if we learn that we have received personal data from a child, we will remove this information from our database.
Changes to this Policy
YOUR COMPANY NAME may from time to time revise its privacy policy. You should therefore periodically visit this page, so you are aware of any such revisions. We will not, however, use your existing information in a manner not previously disclosed. You will be advised and have the opportunity to opt out of any new use of your information.
Contacting Us. If you have any questions about our privacy policy and/or the practices of our web site, you can write to:
YOUR COMPANY NAME
1234 STREET DRIVE
CITY, STATE/PROVINCE
POSTAL CODE
Credit Card Security
We know customers are concerned about credit card security. We use one of the worlds largest funds transfer agencies - PayPal.
If you choose to use a PayPal account, your personal credit card information will not be given to YOUR COMPANY NAME.